Markus Mühlberger
Szablony aplikacji React Native z CodeCanyon są w stanie przyspieszyć tworzenie aplikacji. To wideo pokaże ci jak rozpocząć pracę z własną aplikacją w zaledwie 60 sekund!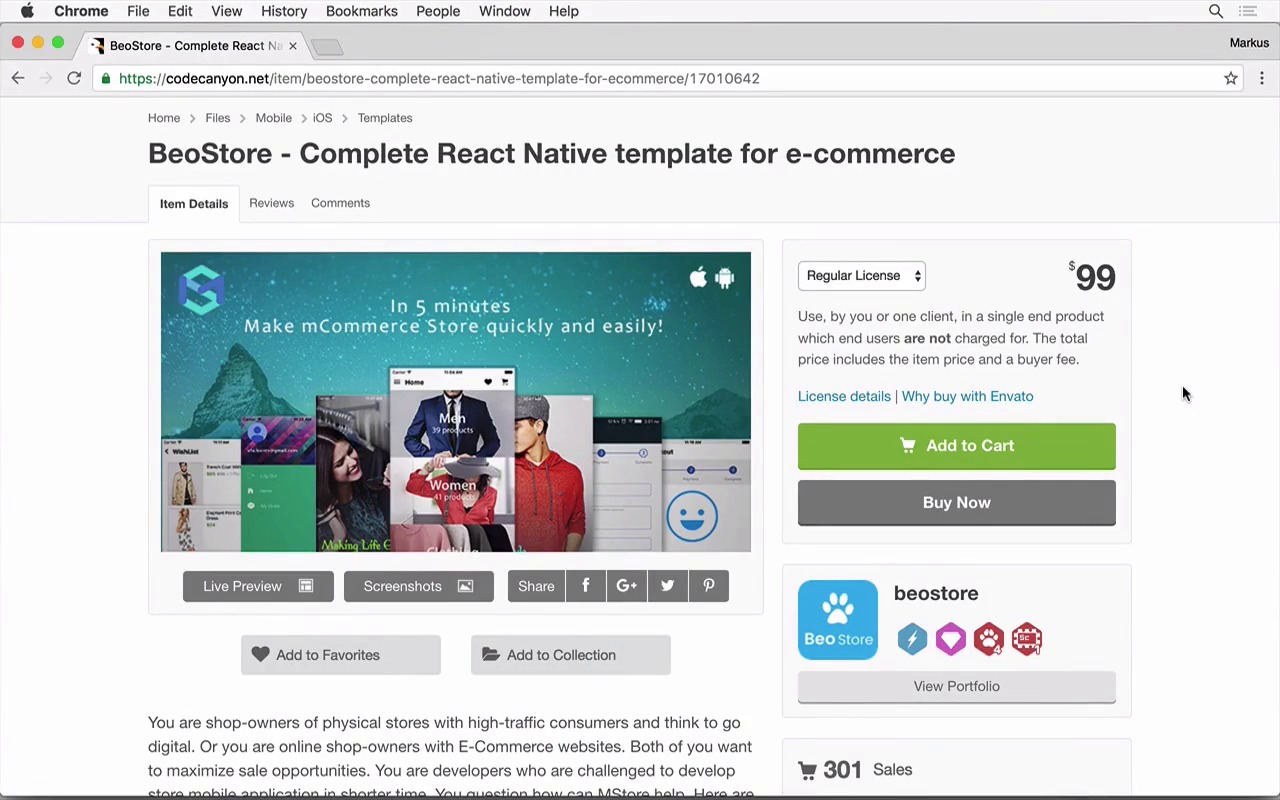 Szablon aplikacji React Native od BeoStore
BeoStore - Complete React Native template for e-commerce jest szablonem sklepu dla handlu elektronicznego opartym o niezależną platformę, który obsługuje wiele języków oraz powiadomienia z Firebase.
Po zakupie produktu na CodeCanyon, będziesz mógł pobrać plik ZIP, który zawiera kompletny szablon aplikacji. Po jego rozpakowaniu, musisz zmienić lokalizację na folder szablonu w powłoce i uruchomić npm install, aby pobrać wszystkie dependencje.
Musisz również, za pomocą polecenia chmod +x, zezwolić skryptowi gradlew na wykonywanie. Następnie, możesz użyć wiersza poleceń React Native, aby uruchomić aplikację.
Cały kod React Native znajduje się w szablonie aplikacji. W pliku Constants.js możesz z łatwością zmienić konfigurację debugowania lub dostosować wygląd swojej aplikacji, na przykład zmieniając kolor paska.
Ustawię jego kolor na zielony. Możesz wczytać ponownie uruchomioną aplikację otwierając menu dewelopera za pomocą CTRL+M lub potrząsając urządzeniem i wybierając Reload.
Teraz możesz dodawać produkty do swojego sklepu! Odwiedź CodeCanyon, aby zobaczyć więcej szablonów aplikacji ReactNative.
Want a weekly email summary?
Subscribe below and we'll send you a weekly email summary of all new Code tutorials. Never miss out on learning about the next big thing.
Sign up
Web and Mobile Developer Vienna, Austria
I'm a software developer from Vienna, Austria. I mostly work on web applications, focusing on Ruby and JavaScript, but occasionally do mobile development on iOS. When not working, I'm playing (the unknown Canadian sport) Kin-Ball for the Austrian national team.
Looking for something to help kick start your next project?
Envato Market
has a range of items for sale to help get you started.