Read Time:
4 mins
Languages:
I file PDF sono un modo efficiente e time-tested di condividere e visualizzare i documenti, ma ci sono alcune limitazioni quando non si dispone di un visualizzatore PDF per il tuo sito. In primo luogo, si rischia di perdere visitatori: mentre browser possono caricare documenti PDF, file caricare in una nuova scheda o finestra, il che significa che l'attenzione degli spettatori ha già allontanato dal tuo sito. In secondo luogo, facendo affidamento su visualizzatori PDF di terze parti, non hai il controllo del modo in cui che i documenti vengono visualizzati, né si può decidere come i visitatori del sito interagirà con i tuoi documenti.
Per fortuna, c'è una soluzione. In questo articolo, io confrontare due visualizzatori PDF per WordPress che risolvere i problemi contrassegnati sopra e, allo stesso tempo, introdurre funzioni per migliorare i documenti PDF e il vostro toolkit digitale. Continua a leggere per ulteriori informazioni su come questi PDF WordPress plugin funzionano, e per scoprire che uno è meglio adatto alle vostre esigenze.
Visualizzatore di PDF per WordPress è un'opzione pulita e raffinata per sia a schermo intero e visualizzazione incorporato. Questo Best-Seller plugin WordPress PDF consente di incorporare i file PDF direttamente su qualsiasi pagina o post del vostro sito WordPress, rendendo facile per gli spettatori di interagire con i tuoi contenuti.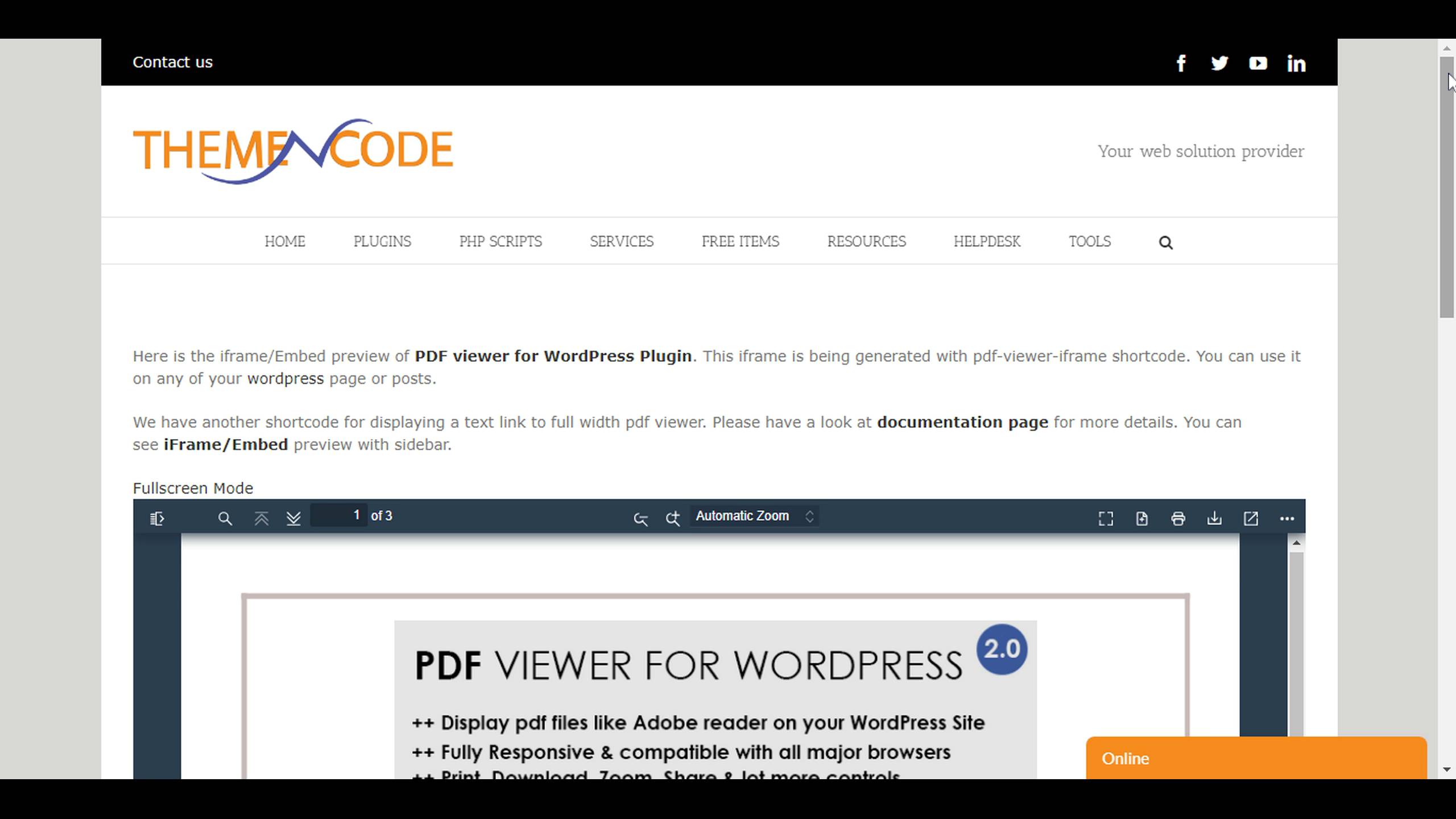 Perfetto per tutti i PDF e particolarmente adatto al menu e manuali, questo visualizzatore consente di caricare documenti di qualsiasi dimensione. Insieme a tutte le opzioni standard come pagina navigazione, Scarica, stampa e presentazione modalità, questo visualizzatore di PDF per WordPress è dotato di caratteristiche premium utile.
Ad esempio, è possibile controllare come gli spettatori interagiscono con il vostro PDF, come tutte le funzioni sono facilmente attivate o disattivate. Se avete bisogno di attivare o disattivare la stampa, il download o la condivisione sociale dei tuoi PDF, siete in grado di farlo con questo plugin WordPress PDF. Un'altra caratteristica riflessivo: questo visualizzatore PDF ti permette di caricare il tuo proprio logo, in modo che il visualizzatore PDF sarà integrato con il vostro marchio e il link al tuo sito, piuttosto che un sito di terze parti. Questo assicura che il vostro WordPress PDF viewer tiene impegnati con i tuoi contenuti, invece di dirigere loro dalla tua pagina i visitatori del sito.
Completamente reattivo e integrato con Google Analitica, questo visualizzatore di PDF per WordPress fornisce un'esperienza utente veloce e fluida, con immagini di alta qualità, che sono entrambi fattori importanti per mantenere felici i visitatori del sito. Confezionati con tre belle e temi completamente personalizzabile, siete in grado di scegliere uno dei modelli predefiniti per visualizzare i file PDF, o regolare i colori e lo stile per abbinare perfettamente il tema del tuo sito Web.
Utente Talle3 dice:
"Noi amiamo questo per visualizzare i nostri documenti in formato PDF. Abbiamo particolarmente apprezzato che possiamo chiudere il documento, in modo che possa essere visto che mentre noi impedirlo vengano scaricati. Ottimo plugin!"
Stai cercando per prendere una dinamico sulla visualizzazione di file PDF? DFlip WordPress plugin PDF porta documenti a vita con pagina flip animazioni e audio.
Ideale per applicazioni creative come libri, saggi di foto e descrizioni, questo visualizzatore di PDF per WordPress è potente e facile da usare. Basato su tecnologia WebGL, dFlip consente di creare realistici flip PDF e album fotografici con un'interfaccia utente interamente drag-and-drop. Non c'è nessuna codifica necessaria — semplicemente aggiungere il link al file per creare una sequenza animata PDF, istantaneamente.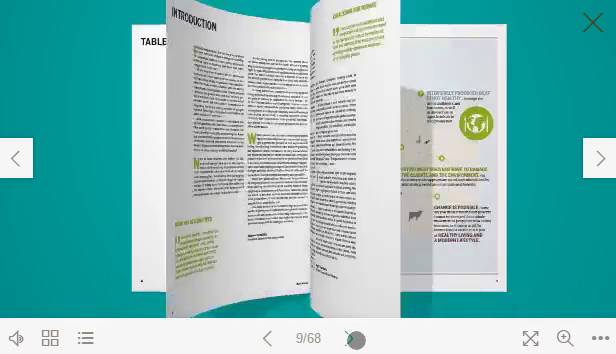 Completamente reattivo e con rendering avanzato per il basso consumo di CPU, questo visualizzatore di PDF per WordPress esegue in modo affidabile su smartphone e postazioni di lavoro desktop. Utilizzando una libreria di mockup 3D e 2D CSS3 potenti trasformazioni, questo plugin presenta "smart fallback" — in altre parole, il tuo file PDF verrà visualizzato in 3D a meno che un dispositivo non è in grado di visualizzarla, nel qual caso si passa a 2D. Questa funzione ti dà il potere di animazione dinamica, garantendo nel contempo che i visitatori del sito saranno in grado di godere tuo flipbook, indipendentemente dal dispositivo che stanno utilizzando.
Contenente tutte le caratteristiche di cui che avete bisogno in un unico pacchetto, come hotspot, annotazioni PDF e profili personalizzati, questo visualizzatore di PDF per WordPress supporta sia file PDF e immagini. Con potere tecnico, un'interfaccia utente semplice e bello stile visivo, questo visualizzatore di PDF per WordPress ha tutto il che necessario per mostrare i tuoi documenti PDF.
Utente conceivecreative dice:
"Awesome flip book plugin! Di gran lunga il migliore che ho trovato! Molto pulito, ed è possibile personalizzare tutto ciò che serve! Consiglio a tutti! A"
Conclusione
Là lo avete: due grandi opzioni di WordPress PDF viewer, con caratteristiche uniche e stili, che verranno permetterà di incorporare documenti PDF nel tuo sito Web in pochi secondi. Per un look semplice e classico, il Visualizzatore di PDF per WordPress è la scelta più ovvia. Se si desidera un visualizzatore con stile che richiama l'attenzione ai tuoi documenti, andare per dFlip. Qualsiasi visualizzatore di PDF per WordPress si sceglie, sia tu che i visitatori del tuo sito sarà felice con l'aspetto e le prestazioni dei vostri documenti.
Happy camper and content specialist.
Weekly email summary
Subscribe below and we'll send you a weekly email summary of all new Code tutorials. Never miss out on learning about the next big thing.
Update me weekly
Looking for something to help kick start your next project?
Envato Market
has a range of items for sale to help get you started.