Rachel McCollin
Di video dari panduan saya dalam membuat konten di Wordpress, kamu akan belajar cara membuat laman, bagaimana menambahkan mereka ke sebuah hirarki laman dari situsmu, dan cara menggunakan templates untuk halaman.
Cara Membuat Halaman Wordpress dengan Hirarki dan Templates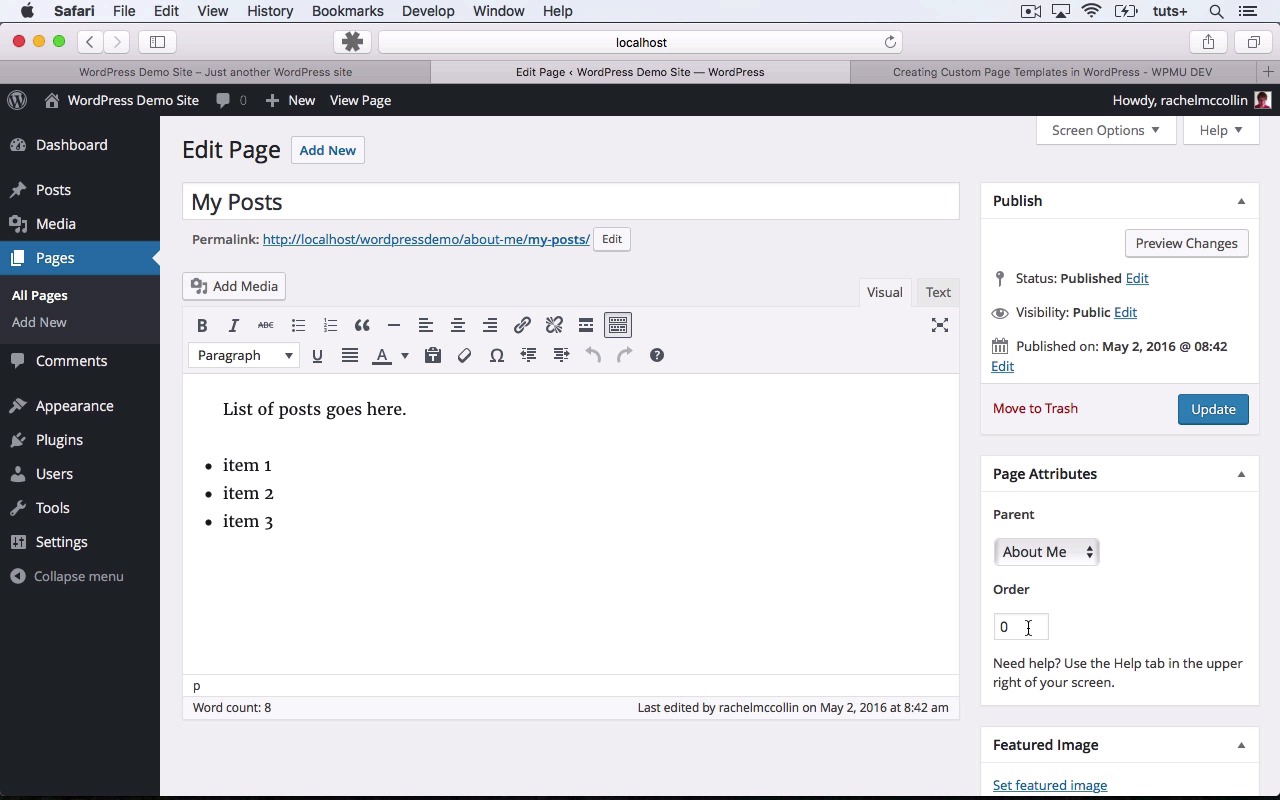 Membuat Laman Baru
Ada beberapa cara di mana kamu bisa membuat halaman baru di WordPress.
Pertama, di admin bar, klik New Page.
Atau di admin menu, di Pages, klik Add New.
Atau kamu bisa pergi ke daftar halamanmu dan klik Add New dari sana.
Sebuah fungsi biasa dari halaman di WordPress adalah untuk sebuah halaman Tentang Kami atau Tentang Saya. Jadi mari buat itu. Buat sebuah laman baru, dan tambahkan sebuah judul kecil dari teks tentang kamu. Ini contoh saya:
Kamu bisa dengan mudah menambahkan sebuah gambar dengan cara yang sama saat membuat post, dengan menggunakan tombol Add Media. Jadi jika saya menambahkan sebuah gambar, inilah konten dari halaman saya sejauh ini:
Tekan Publish, dan dia akan dirilis ke situs sama halnya dengan sebuah post.
Membuat sebuah Hirarki
Sekarang mari tambahkan sebuah laman lain, dan kita akan melakukannya dengan cara yang mengilustasikan hirarki halaman.
Buat sebuah laman baru bernama My Posts, dan tambahkan beberapa teks. Dan kali ini, pergi ke menu drop-down Parent di bagian Page Attributes di sisi kanan dan klik About Me. Lalu klik Publish.
Dengan memilih sebuah parent, kita telah membuat sebuah halaman yang berada di bawah "About Me" dalam hirarki halaman. Jika kamu melihat halamannya kamu akan melihar URL slug-nya adalah  /about-me/my-posts/ Jadi itu menunjukkan bahwa dia berada dalam suatu hirarki dalam situsmu. Dan jika temamu memiliki breadcrumbs atau jika kamu memiliki plugin breadcrumbs yang terpasang dan aktif, dia akan muncul di breadcrumbs.
Sekarang mari buat halaman lain yang juga hidup di hirarki tersebut. Kamu bisa menyebutnya My Hobbies, dan menambahkan beberapa teks palsu, pilih About Me sebagai Parent dan klik Publish.
Lalu, saat kamu pergi ke layar yang mendaftar semua halamanmu, kamu bisa melihat bahwa hirarki yang ditunjukkan dengan tanda strip ke nama halaman, jadi kamu bisa melihat secara jelas struktur situsmu.
Menggunakan Sebuah Template Laman
Sekarang mari lihat bagaimana kamu bisa menggunakan template laman kostum untuk menampilkan konten dari halaman berbeda secara berbeda.
Untuk melakukannya, kita perlu mengaktifkan sebuah tema berbeda di situs kita, karena tema Twenty Sixteen yang saya gunakan sejauh ini tidak memiliki template halaman apapun. Jadi mari pergi ke Themes di menu Appearance dan mengaktifkan tema Twenty Eleven, karena dia memiliki template halaman kostum.
Saat kamu mengaktifkan tema tersebut, kembali ke daftar laman dan pilih halaman My Hobbies. Di halaman edit, kamu akan melihat bahwa beberapa hal telah berubah.
Pertama, font-nya telah berubah, karena dia merefleksikan font yang digunakan di temamu.
Juga, di Page Attributes di sisi kanan, ada beberapa field baru, dan itulah template-nya. Jadi kamu sekarang bisa bisa memilih template bawaan atau satu dari dua template yaitu the Showcase Template dan Sidebar Template. Pilih Sidebar Template lalu perbaharui laman dan lihat itu.
Hal pertama yang bisa kamu lihat saat melihat halaman adalah bahwa situsnya terlihat sedikit berbeda, tapi kamu juga akan menyadari bahwa memiliki sebuah sidebar. Dan jika kamu pergi ke halaman lain, tidak akan ada sidebar, karena halaman tersebut tidak menggunakan sidebar template.
Jadi pada dasarnya, halaman di situs tidak akan memiliki sidebar kecuali kamu memilih sidebar template.
Mari lihat sedikit template kostum halaman yang telah dikode.
Sebuah template halaman tidak harus memiliki sebuah nama spesifik. Kamu bisa memanggilnya apapun yang kamu mau. Dan yang satu ini disebut sidebar-page.php Jika kamu melihat ke kontennya, kamu akan melihat dipermulaan ada Template Name: Sidebar Template Dan Teks Sidebar Template yang sama persis dengan yang kamu lihat di menu dropdown Template.

Jadi jika kamu mengembangkan temamu sendiri, yang kamu perlukan untuk membuat sebuah template halaman adalah membuat sebuah berkas template yang memiliki nama template dalam bagian komentar di atas.
Jika kamu mengikuti petunjuk di tutorial ini, kamu harusnya sekarang memiliki beberapa halaman yang ditambahkan ke situs Wordpress-mu. Beberapa dari mereka menggunakan satu template, dan yang lainnya menggunakan template lain, dan mereka dalam sebuah hirarki.
Tonton Panduan Lengkapnya
Di panduan lengkap, Membuat Konten di Wordpress dengan Post dan Page, saya akan membahas lebih dalam mengenai cara membuat konten untuk situs WordPress-mu. Kamu akan belajar tentang post dan page, membangun blok dasar dari manajemen konten di Wordpress. Kamu akan belajar cara menstruktur post dan page sekaligus cara menambahkan text, media, dan links. Kamu juga akan melihat bagaimana mengatur konten WordPress dengan kategori, tag dan menu. Sepanjang jalan, saya akan tunjukkan beberapa contoh menginspirasi dari penggunaan post dan page yang digunakan di situs WordPress lainnya.
Jika kamu ingin belajar cara cepat memasang dan mengkostumisasi sebuah tema, kenapa tidak baca Panduan Coffee Break: Cara Memasang dan Mengkostumisasi sebuah Tema WordPress.
Ketika situsmu sudah berjalan, pelajari cara memasang dan mengatur plugin gratisan untuk mencadangkan data, keamanan, caching, dan SEO di panduan singkat: Essential WordPress Plugins.
Want a weekly email summary?
Subscribe below and we'll send you a weekly email summary of all new Code tutorials. Never miss out on learning about the next big thing.
Sign up
WordPress Developer and Writer, Birmingham UK
Rachel McCollin is a WordPress developer who writes books, articles and tutorials about web design and development, with a focus on WordPress and on responsive and mobile development. She runs a web design agency in Birmingham, UK and has published three books on WordPress, including WordPress: Pushing the Limits, an advanced resource for WordPress developers. She's currently writing her fourth book.
Scroll to top
Looking for something to help kick start your next project?
Envato Market
has a range of items for sale to help get you started.