Sponsored Content
This sponsored post features a product relevant to our readers while meeting our editorial guidelines for being objective and educational.
Komunikasi real-time merupakan sesuatu yang sulit didapatkan dalam web development, dan kita akhirnya memiliki kemampuan untuk menggabungkannya dalam aplikasi kami, berkat Web Sockets API. Tetapi seperti kebanyakan API browser, Web Sockets API agak low level, dan jika Anda menghabiskan banyak waktu dengannya, maka Anda tahu betapa sulitnya menggunakannya secara efektif.
Meski pun saat ini kita memiliki supercomputer di kantong kita yang kita gunakan setiap hari, dan pengguna mengharapkan pengalaman real-time yang sama baik itu di web, mobile, dan bahkan desktop. Dalam seri ini, Anda akan belajar tentang Channels, platform yang memungkinkan Anda memberikan pengalaman real-time tanpa batas yang diinginkan pengguna.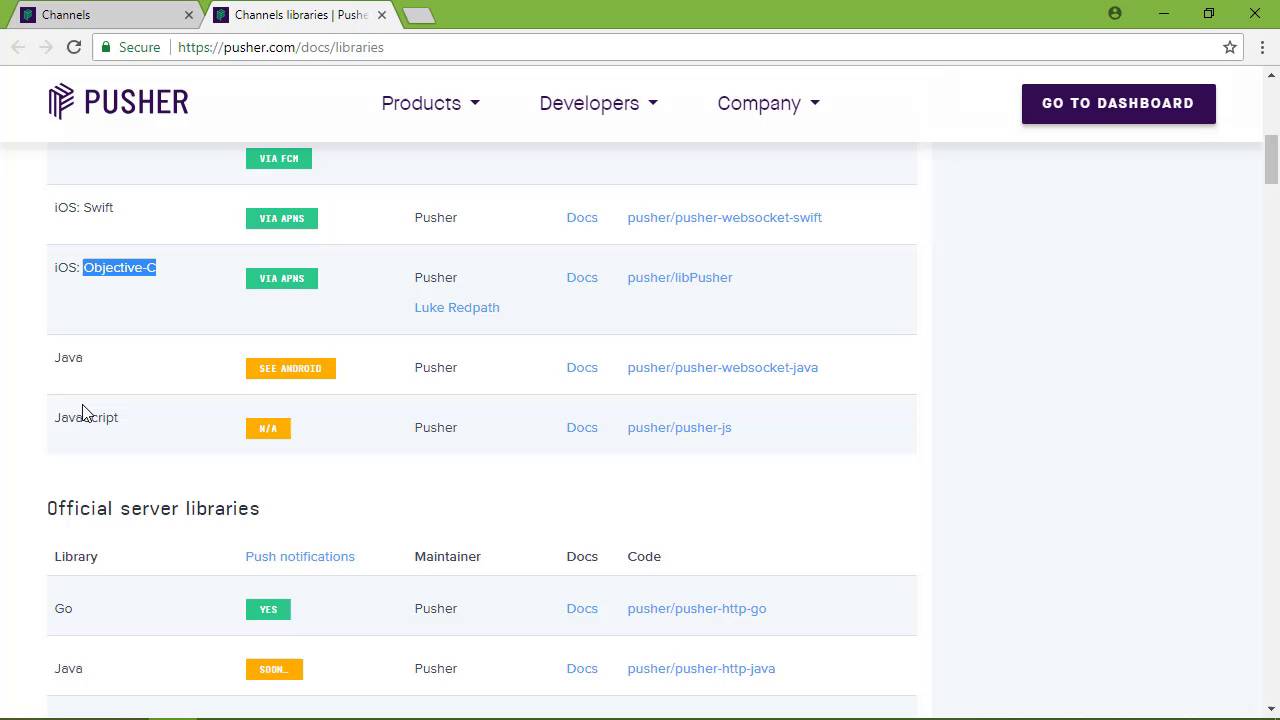 Apa itu Channels?
Ketika membahas untuk menulis aplikasi real-time, yang Anda butuhkan adalah infrastruktur yang dapat Anda gunakan (dan digunakan kembali) di semua aplikasi Anda di semua platform yang didukung. Akan sangat menyenangkan untuk menulis infrastruktur tersebut, tetapi jika Anda seperti saya, tugas Anda adalah membangun dan menghasilkan aplikasi — Anda tidak punya waktu untuk menggulung real-time solution Anda sendiri.
Yang Anda butuhkan adalah sesuatu seperti produk yang disebut "Channels" dari Pusher. Channels adalah platform yang dilengkapi dengan semua yang Anda butuhkan untuk memasukkan komunikasi real-time di semua aplikasi web, mobile, dan desktop Anda.
Channels menyediakan publikasi dan berlangganan pesan yang fleksibel dengan API sederhana mereka yang berbasis event.
Dengan menggunakan library server yang luas, Anda dapat men-trigger event dari aplikasi server Anda dan me-listen events tersebut di klien Anda. Mari kita tengok sebentar library apa yang tersedia karena ini mungkin adalah hal paling penting yang akan Anda minati — setidaknya saya tahu saya akan melakukannya karena saya ingin memastikan bahwa teknologi saya didukung!
Dukungan Platform
Library terbagi dalam dua kategori:
client libraries
server libraries
Kita biasanya mempublikasikan message dan event kita dari server dan me-listen-nya di klien, tetapi Channels juga mendukung client event — memungkinkan untuk mempublikasikan message dari klien (meskipun itu bukan sesuatu yang selalu ingin kita lakukan).
Anda dapat melihat bahwa library resmi yang ditulis dan dikelola oleh Pusher mendukung semua platform yang umum. Di bagian depan, Pusher memiliki library untuk:

Android 
iOS (Swift dan Objective C) 
Java
JavaScript
Dan di server, Anda akan menemukan dukungan untuk:

Go
Java
.NET
Node.js
PHP
Laravel
Python
Ruby
Jika Anda menggunakan bahasa atau platform lain, ada banyak community libraries yang tersedia — misalnya, untuk ActionScript, Android (meskipun ada juga dukungan resmi untuk Android), C++, Cold Fusion, Dart, PERL, dan React Native. Community libraries ini mungkin tidak mengimplementasikan semuanya, tetapi mereka adalah tempat yang baik untuk memulai.

Fitur-fitur
Channels jauh lebih dari sekadar publishing dan subscribing terhadap message.
Anda dapat membuat dan menggunakan private channel sehingga hanya pengguna yang sah yang dapat berlangganan ke channel tersebut. Ini berarti bahwa Anda perlu mengotentikasi pengguna, dan Anda dapat dengan lancar mengintegrasikan otentikasi Channels dengan skema autentikasi Anda.
Anda juga dapat membuat specialized private channels, yang disebut Presence Channels, yang memungkinkan Anda melihat pengguna yang berlangganan channel tertentu, dan itu membuatnya sangat mudah untuk membangun aplikasi collaborative, games, dan jenis aplikasi lain yang perlu Anda ketahui siapa yang sedang on line.
Sebagai sebuah platform, Channels memberi Anda semua yang diperlukan untuk memantau metrik dan alert. Anda dapat melihat berbagai metrik tentang pesan yang dikirim melalui channel Anda, seperti jumlah pesan, jenisnya, dan ukurannya. Anda juga akan memiliki informasi tentang koneksi dan bagaimana klien menghubungkan keduanya ke aplikasi Anda dan platform Channels. Anda juga dapat mengintegrasikan semua data ini dengan tool pihak ketiga lainnya seperti Datadog dan Slack.

Ada tool debugging yang tersedia untuk setiap kali Anda mengalami masalah, dan web hooks mendukungnya sehingga server Anda dapat diperbarui dan diberitahukan ketika peristiwa terjadi dalam Channels. Anda juga dapat menanyakan status pengguna yang terhubung dengan API query sederhana.

Kesimpulan
Ada banyak hal luar biasa yang dapat ditemukan tentang Channels, dan kami akan membahasnya di beberapa video berikutnya. Jadi nantikanlah! Dan pastikan untuk mengunjungi situs Pusher untuk mempelajari lebih lanjut. Mereka memiliki banyak informasi tentang kasus penggunaan spesifik serta tutorial dan informasi memulai menggunakannya.

Want a weekly email summary?
Subscribe below and we'll send you a weekly email summary of all new Code tutorials. Never miss out on learning about the next big thing.
Sign up
I started my development career on the client-side writing JavaScript and DHTML components in my spare time. In 2005, Nicholas C. Zakas asked me to join him in writing the first edition of Professional Ajax for Wiley Publishing. Since Professional Ajax, 1st Edition, I've been blessed to take part in other book projects: Professional Ajax 2nd Edition, and Beginning JavaScript 3rd and 4th editions.
Looking for something to help kick start your next project?
Envato Market
has a range of items for sale to help get you started.