Jane Baker
File PDF merupakan cara yang efisien dan teruji waktu untuk berbagi dan menampilkan dokumen, tetapi ada beberapa batasan ketika Anda tidak memiliki PDF viewer untuk situs web Anda. Pertama, Anda berisiko kehilangan pengunjung: sementara mungkin browser dapat memuat dokumen PDF, tetapi file dimuat di tab atau jendela baru, yang berarti bahwa perhatian pemirsa telah melayang dari situs Anda. Kedua, dengan mengandalkan PDF viewer pihak ketiga, Anda tidak memiliki kendali atas cara dokumen Anda ditampilkan, Anda juga tidak dapat memutuskan bagaimana pengunjung situs akan berinteraksi dengan dokumen Anda.
Untungnya ada solusinya. Pada artikel ini, saya akan membandingkan dua PDF viewer untuk WordPress yang menyelesaikan masalah yang dibahas di atas dan, pada saat yang sama memperkenalkan fitur untuk menyempurnakan dokumen PDF Anda dan perangkat digital Anda. Baca terus untuk mengetahui cara kerja plugin PDF WordPress ini, dan untuk mengetahui mana yang paling sesuai dengan kebutuhan Anda.
PDF Viewer untuk WordPress adalah opsi yang clean dan halus untuk tampilan fullscreen dan embedded. Plugin WordPress PDF terlaris ini memungkinkan Anda untuk menyematkan file PDF secara langsung pada halaman atau postingan situs WordPress Anda, sehingga memudahkan pemirsa untuk terlibat dengan konten Anda.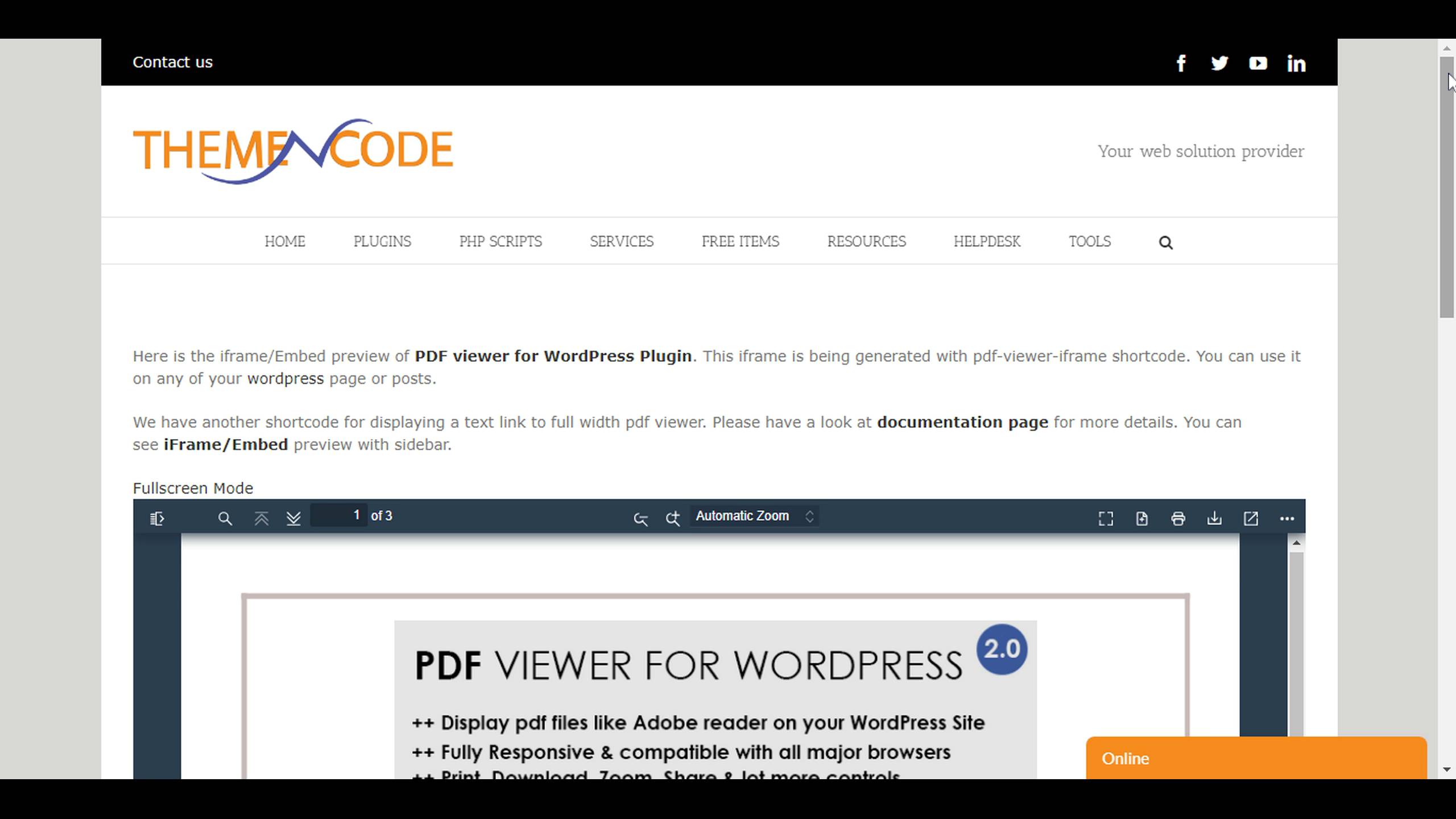 Sempurna untuk semua PDF, dan sangat cocok untuk menu dan manual, viewer ini memungkinkan Anda untuk mengunggah dokumen dengan ukuran apa pun. Seiring dengan semua opsi standar seperti navigasi halaman, download, print dan mode presentasi, WordPress PDF viewer ini dilengkapi dengan fitur premium yang bermanfaat.
Misalnya, Anda dapat mengontrol bagaimana viewer berinteraksi dengan PDF Anda, karena semua fitur mudah diaktifkan atau dinonaktifkan. Jika Anda perlu mengaktifkan atau menonaktifkan printing, downloading, atau social sharing dari PDF Anda, Anda dapat melakukannya dengan plugin PDF WordPress ini. Fitur berguna lainnya: PDF viewer ini memungkinkan Anda untuk mengunggah logo Anda sendiri, sehingga PDF viewer Anda akan diintegrasikan dengan brand Anda dan link back ke situs Anda sendiri, bukan situs pihak ketiga. Ini membuat pengunjung situs terlibat dengan konten Anda, daripada mengarahkan mereka keluar dari halaman Anda.
Sepenuhnya responsif dan terintegrasi dengan Google Analytics, WordPress PDF viewer ini memberikan pengalaman pengguna yang cepat dan halus, bersama dengan kualitas gambar yang tinggi, yang merupakan faktor penting untuk membuat pengunjung situs senang. Viewer ini dikemas dengan tiga tema yang indah dan dapat disesuaikan sepenuhnya, sehingga Anda dapat memilih salah satu tamplate default untuk menampilkan file PDF Anda atau menyesuaikan warna dan style untuk mencocokkan dengan sempurna dengan tema situs web Anda.
Pengguna Talle3 mengatakan:
"Kami suka ini untuk menampilkan dokumen PDF kami. Kami utamanya senang bahwa kami dapat mengunci dokumen, sehingga dapat dilihat tetapi mencegahnya agar tidak diunduh. Plugin hebat!"
Apakah Anda mencari cara yang dinamis untuk menampilkan PDF? Plugin dFlip WordPress PDF menghidupkan dokumen Anda dengan animasi flip halaman dan audio.
Sempurna untuk aplikasi kreatif seperti buku, esai foto, dan portofolio, WordPress PDF viewer ini powerful dan mudah digunakan. Berbasis pada teknologi WebGL, dFlip memungkinkan Anda membuat PDF flip dan buku foto yang realistis dengan interface pengguna drag-and-drop. Tidak diperlukan coding — cukup tambahkan link ke file Anda untuk membuat flipbook PDF, secara instan.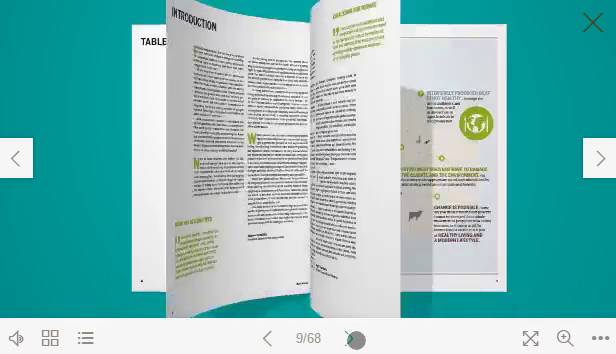 Sepenuhnya responsif dan dengan smart rendering untuk konsumsi CPU yang rendah, viewer PDF WordPress ini bekerja dengan andal pada smartphone dan workstation desktop. Menggunakan library mockup 3D dan transformasi 2D CSS3 yang powerful , plugin ini menampilkan "smart fallback" — dengan kata lain, PDF Anda akan ditampilkan dalam 3D kecuali perangkat tidak dapat menampilkannya, dalam hal ini ia beralih ke 2D. Fitur ini memberi Anda kekuatan animasi dinamis, sambil memastikan bahwa pengunjung situs dapat menikmati flipbook Anda, apa pun perangkat yang mereka gunakan.
Berisi semua fitur yang Anda butuhkan dalam satu paket, seperti hotspot, PDF annotations, dan custom outline, viewer PDF WordPress ini mendukung PDF dan gambar. Dengan technical power, interface pengguna yang sederhana, dan gaya visual yang indah, dFlip memiliki semua yang Anda butuhkan untuk menampilkan dokumen PDF Anda.
Pengguna konsepsi mengatakan:
"Plugin flip book yang luar biasa! Sejauh ini yang terbaik yang saya temukan! Sangat clean, dan Anda dapat menyesuaikan semua yang Anda butuhkan! Rekomendasikan untuk semua! A+"
Kesimpulan
Ini dia: dua opsi PDF viewer untuk WordPress yang luar biasa, dengan fitur dan gaya unik, yang memungkinkan Anda menyematkan dokumen PDF di situs web Anda dalam hitungan detik. Untuk tampilan yang ramping dan klasik, PDF Viewer untuk WordPress adalah pilihan yang jelas. Jika Anda ingin pemirsa dengan bakat yang menarik perhatian pada dokumen Anda, pilih dFlip. Apapun PDF viewer untuk WordPress yang Anda pilih, Anda dan pengunjung situs web Anda akan senang dengan tampilan dan kinerja dokumen Anda.
Want a weekly email summary?
Subscribe below and we'll send you a weekly email summary of all new Code tutorials. Never miss out on learning about the next big thing.
Sign up
Happy camper and content specialist.
Looking for something to help kick start your next project?
Envato Market
has a range of items for sale to help get you started.