Read Time:
1 min
Languages:
A CodeCanyonról letöltött Android alkalmazás sablonokkal gyorsan elkezdheted alkalmazásod fejlesztését. Ez a videó megmutatja hogyan kezdj neki a saját appodnak csak 60 másodperc alatt!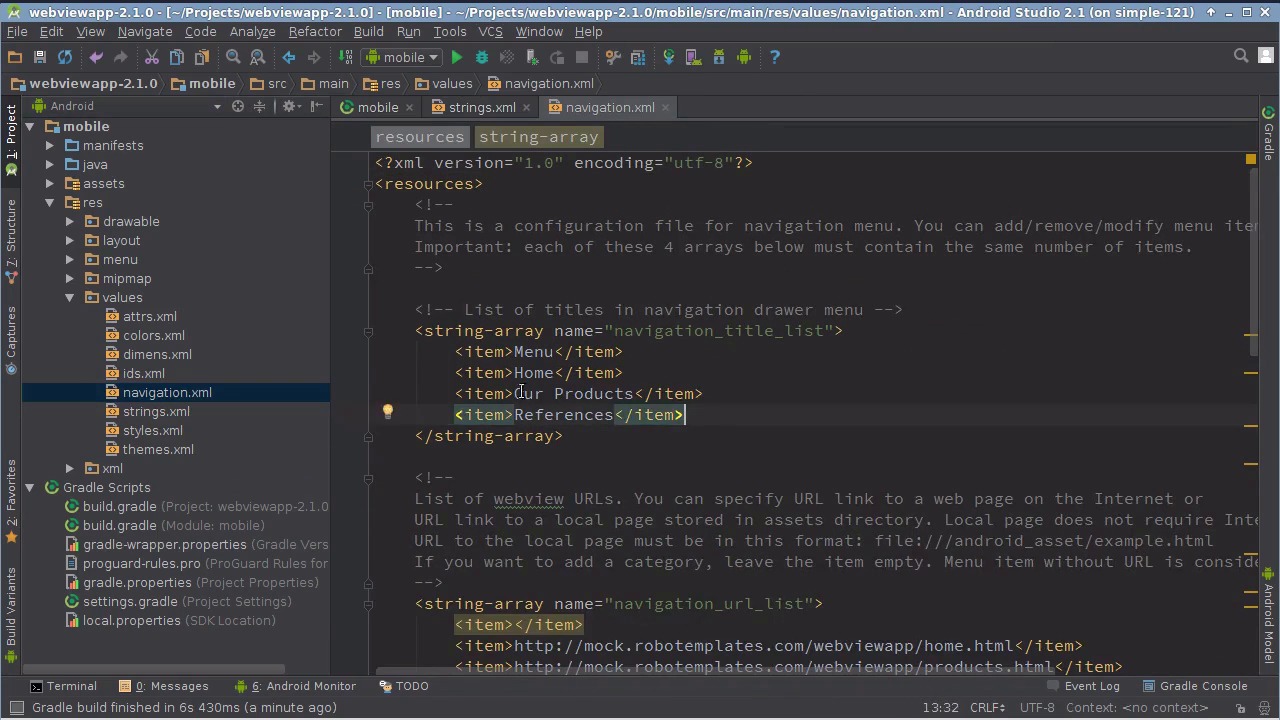 Univerzális Android WebView alkalmazás sablon

Az Univerzális Android WebView alkalmazás sablon segítségével könnyedén konvertálhatod a weboldalak Android alkalmazássá. Amint megvetted a Code Canyon áruházból, már le is töltheted a sablont .zip fájlként. Miután kicsomagoltad a fájlt, kapsz egy projektet amit az Android Studio segítségével nyithatsz meg.
Projekt konfiguráció
Az Android Studioban először meg kell nyitnod és megváltoztatni az alkalmazás ID-t, hogy az a szervezetedhez kapcsolódjon. Következőnek nyisd meg a strings.xml fájlt és nevezd el tetszőlegesen az alkalmazásod. És most nyisd meg a navigation.xml fájlt hogy meghatározd az alkalmazásod aktuális tartalmát. Az első string tömb definiálja az alkalmazás navigáció tartalmát.
A következő string tömb segít hozzárendelni az oldalak URL címét a navigációs sáv elemeihez. A harmadik string tömb ikonokat ad hozzá a navigációs gombokhoz. Az utolsó string tömb lehetővé teszi az oldalak megosztási módjának konfigurációját. Egyelőre válasszuk azt, hogy nem osztjuk meg.
Téma és tesztelés
Végül menj a projekt jegyzékébe és válassz egy témát az alkalmazásodnak, alapból 10 téma közül választhatsz. Én a zöldet fogom választani. Kattintsunk a futtatás gombra és már láthatod is a frissen elkészített alkalmazásodat!
Mi a következő?
Android alkalmazás sablonok tucatjait találhatod az Envato Market kínálatában. Még ma látogasd meg, hogy találj egy témát ami felgyorsítja az alkalmazásod fejlesztését.
Hathibelagal is an independent Android app developer and
blogger
who loves tinkering with new frameworks, SDKs, and devices.
Weekly email summary
Subscribe below and we'll send you a weekly email summary of all new Code tutorials. Never miss out on learning about the next big thing.
Update me weekly
Looking for something to help kick start your next project?
Envato Market
has a range of items for sale to help get you started.