Rachel McCollin
En este vídeo de mi curso sobre la creación de contenido en WordPress, aprederás a crear páginas, a cómo integrarlas en la jerarquía de páginas de tu web, y a usar plantillas de página.
Cómo Crear Páginas en WordPress Usando la Jerarquía y las Plantillas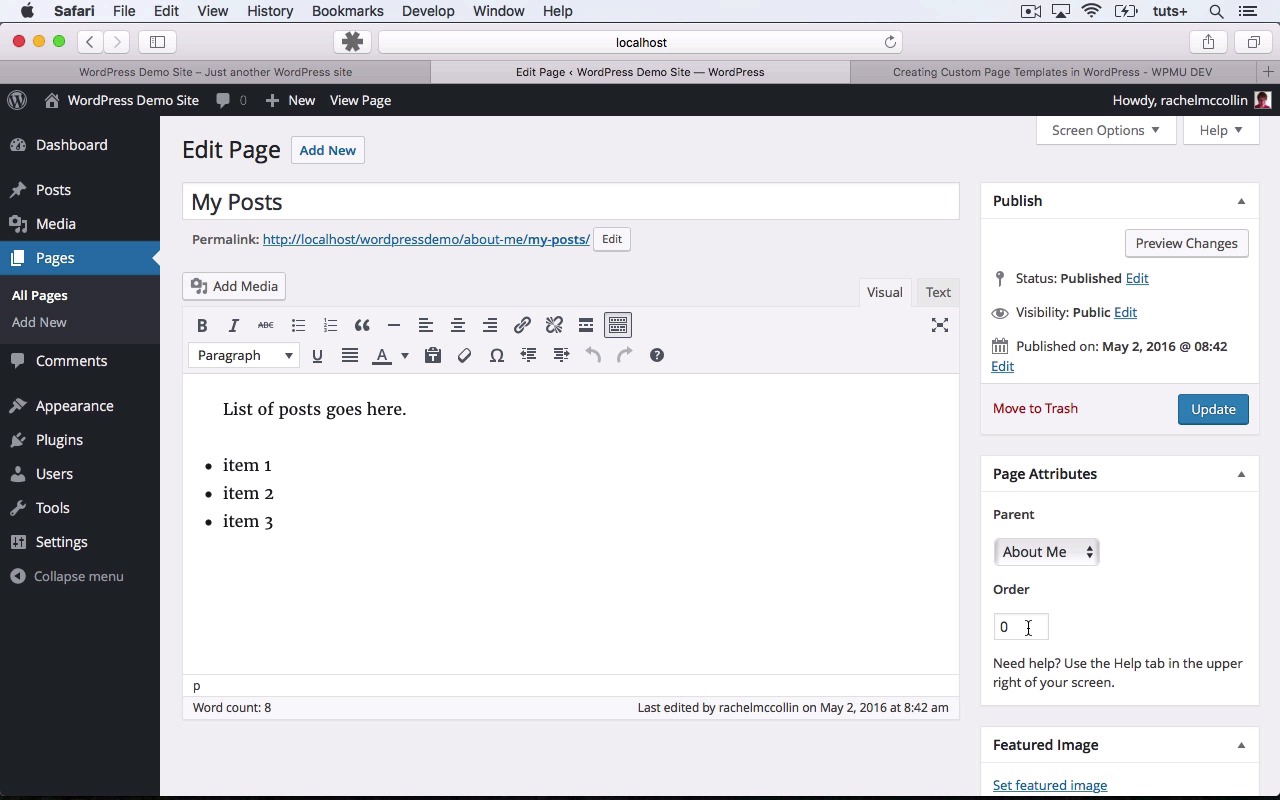 Crea una Nueva Página
Existen varias formas en las que puedes crear una nueva página en WordPress.
Primero, arriba en la barra de administración, puedes pulsar Nueva Página.
O en el menú de administración, en Páginas, puedes hacer clic sobre Añadir Nueva.
O podrías ir dirigirte al listado de todas tus páginas y desde allí pulsar Añadir Nueva.
Un uso habitual de una página en WordPress es la creación de una página "Sobre Nosotros" o "Sobre Mí". Así que vamos a crearla. Crea una nueva página, y añade un poco de texto sobre ti. Aquí tienes mi ejemplo:
Puedes añadir una imagen con facilidad de la misma forma que lo harías en una entrada, usando el botón Añadir Medio. Así que, tras añadir una imagen, este es el contenido de mi página:
Pulsa Publicar, y se publicará en el sitio de la misma forma que lo haría una entrada.
Crear una Jerarquía
Ahora vamos a añadir otra página, y lo haremos de tal forma que ilustre el funcionamiento de la jerarquía de páginas.
Crea una nueva página llamada Mis Entradas, y añade algún texto. En este momento, dirígete al menú desplegable Padre en la sección de Atributos de Página de la derecha, y selecciona Sobre Mí. Después pulsa Publicar.
Mediante la selección de un padre, hemos creado una página que estará situada en la jerarquía bajo la página "Sobre Mí". Si visitas la página, verás que el slug de la URL es /sobre-mi/mis-entradas/. De esta forma muestra que está dentro de una jerarquía de tu sitio. Y si tu tema incluyese migas de pan ("breadcrumbs" en inglés) o tienes un plugin para migas de pan activado, ésta se mostrará también en ellas.
Vamos a crear ahora otra página que también residirá en esa jerarquía. Puedes llamarla Mis Aficiones, y añade algo de texto falso, elige como Padre la página Sobre Mí, y pulsa Plublicar.
Después, cuando te dirijas a la pantalla que enumera todas tus páginas, podrás ver que la jerarquía se muestra mediante un guión que antecede al nombre de las páginas, así podrás ver con claridad la estructura de tu sitio web.
Usar una Plantilla de Página
Ahora veamos cómo puedes usar tus propias plantillas de página para mostrar los contenidos de las páginas de forma diferente.
Para hacer esto, tendremos que activar un tema diferente en nuestro sitio, porque el tema Twenty Sixteen que he estado usando hasta ahora no incluye ninguna plantilla de página personalizada. Así vayamos a la pantalla Temas dentro del menú Apariencia y activa el tema Twenty Eleven, porque este incluye plantillas de página personalizadas.
Cuando hayas activado el tema, vuelve a tu lista de páginas y selecciona la página Mis Aficiones. En la pantalla de edición de página verás que han cambiado algunas cosas.
Primero, la fuente ha cambiado, ya que muestra la fuente usada en el tema actual.
Además, en los Atributos de Página de la derecha, existe un nuevo campo, se trata de Plantilla. Así que ahora puedes seleccionar la Plantilla Predeterminada o una de las otras, la Plantilla Escaparate o la Plantilla con Columna Lateral. Selecciona la Plantilla con Columna Lateral o "sidebar", actualízala y visualízala.
La primera cosa que podrás observar cuando veas la página es que la web tiene un aspecto muy diferente, pero además verás que ahora dispones de una columna lateral. Y si te diriges a otra página comprobarás que no existe columna lateral, porque esas páginas no están usando la plantilla con "sidebar".
Así que de forma predeterminada, las páginas del sitio no disponen de columna lateral a menos que selecciones la plantilla que sí la contiene.
Echemos un rápido vistazo a cómo es el código de estas plantillas personalizadas de página.
Una plantilla de página no tiene porque tener un nombre específico. Puedes llamarla como más te guste. Y esta en concreto se llama sidebar-page.php. Si te fijas en los contenidos, podrás ver que al inicio indica Template Name: Sidebar Template. Y ese "Sidebar Template" es exactamente el texto que verás en la lista desplegable de las Plantillas.

Así que si estás desarrollando tu propio tema, todo lo que necesitas hacer para crear un archivo de plantilla de página que tenga su nombre indicado en los comentarios tal y como acabamos de ver.
Si has seguido las instrucciones de este tutorial, ahora deberías disponer de un número de páginas añadidas a tu web realizada con WordPress. Algunas de ellas usan una plantilla determinada, y otras usan una diferente, y además crean una estructura jerarquizada. 
Mira el Curso Completo
En el curso completo, Crear Contenido en WordPress Con Entradas y Páginas, profundizaré más sobre cómo crear contenido para tu web con WordPress. Aprenderás sobre las entradas y las páginas, los bloques constructivos básicos del gestor de contenidos WordPress. Aprenderás a estructurar tus entradas y páginas así como a añadir texto, medios y enlaces. También verás cómo organizar el contenido WordPress mediante categorías, etiquetas, y menús. Durante el recorrido, te enseñaré algunos ejemplos inspiradores sobre como las entradas y páginas son empleadas en otras webs realizadas con WordPress.
Si quieres aprender a instalar y personalizar rápidamente un tema, porque no visitas nuestro Curso de Descanso para un Café: Cómo Instalar y Personalizar un Tema WordPress.
Una vez tengas tu página lista y publicada, aprenderás a instalar y configurar plugins gratuitos para realizar copias, para la seguridad, para el cacheado, y para el SEO en nuestro breve curso: Plugins Esenciales para WordPress.
Want a weekly email summary?
Subscribe below and we'll send you a weekly email summary of all new Code tutorials. Never miss out on learning about the next big thing.
Sign up
WordPress Developer and Writer, Birmingham UK
Rachel McCollin is a WordPress developer who writes books, articles and tutorials about web design and development, with a focus on WordPress and on responsive and mobile development. She runs a web design agency in Birmingham, UK and has published three books on WordPress, including WordPress: Pushing the Limits, an advanced resource for WordPress developers. She's currently writing her fourth book.
Looking for something to help kick start your next project?
Envato Market
has a range of items for sale to help get you started.