Jeremy McPeak
Sponsored Content
This sponsored post features a product relevant to our readers while meeting our editorial guidelines for being objective and educational.
Comunicación en tiempo real es un Santo Grial del desarrollo web, y por fin tenemos la capacidad de incorporar en nuestras aplicaciones, gracias a la API de Sockets de Web. Pero como con el navegador más APIs, la API de Sockets de Web es más bien escasa, y si han pasado cualquier cantidad de tiempo con él, entonces usted sabe lo difícil que puede ser utilizar de manera efectiva.
Hoy, sin embargo, tenemos superordenadores en nuestros bolsillos que utilizamos todos los días, y los usuarios esperan que la misma experiencia en tiempo real a través de web, móvil y escritorio incluso. En esta serie, usted aprenderá sobre los Canales, una plataforma que le permite a sus usuarios la experiencia en tiempo real que quieren.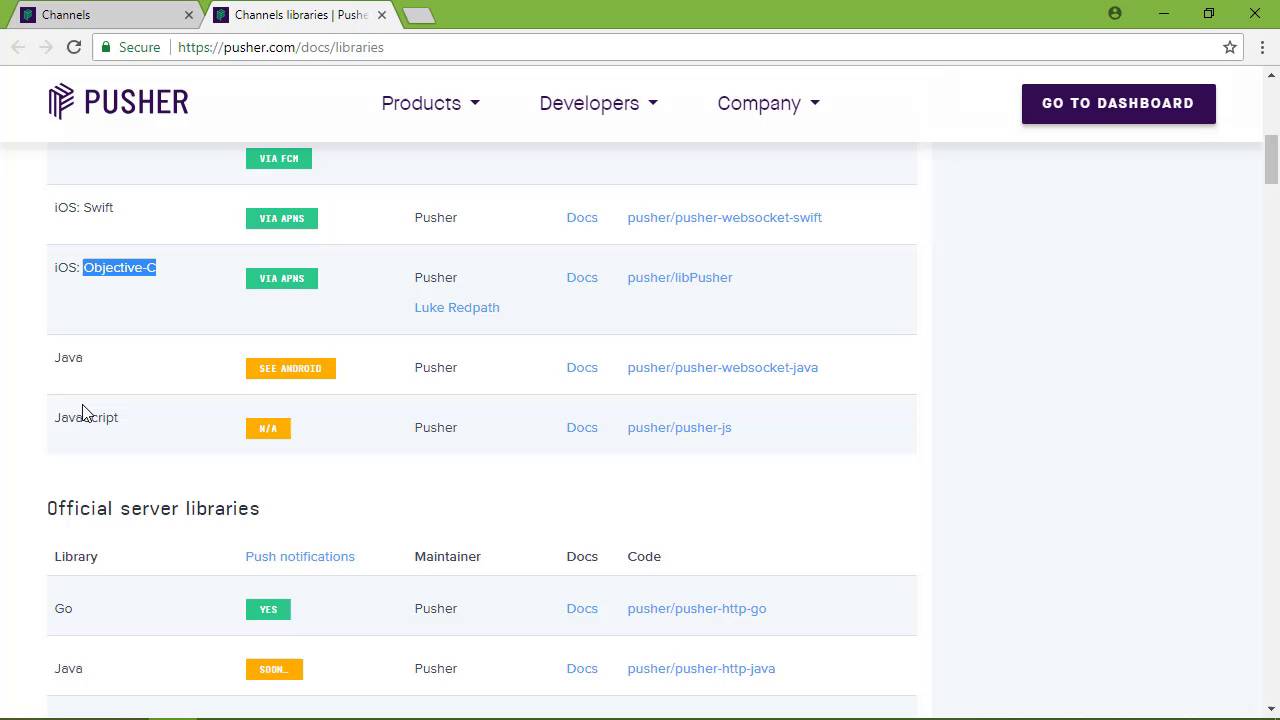 ¿Qué es Canales?
Cuando se trata de escribir aplicaciones en tiempo real, lo que necesita es una infraestructura que puede utilizar (y reutilizar) en todas sus aplicaciones en todas sus plataformas soportadas. Que sería divertido escribir esa infraestructura, pero si eres como yo, tu trabajo es construir y producir aplicaciones, no tienes tiempo para rodar su propia solución en tiempo real.
Lo que realmente necesitas es algo así como un producto llamado "Canales" de Pusher. Canales es una plataforma que viene con todo lo necesario para incorporar la comunicación en tiempo real en todas las web, móviles y de escritorio aplicaciones.
Canales ofrece flexible publicar y suscribirse a mensajes con su API sencilla y basada en eventos.
Mediante el uso de sus bibliotecas de servidor extensa, puede desencadenar eventos desde las aplicaciones de servidor y escucha para los eventos en su cliente. Echemos un vistazo a las librerías están disponibles ya que esto es probablemente lo más importante que usted estaría interesado en, al menos sé que sería porque quiero para asegurarse de que mi tecnologías son compatibles!
Soporte de Plataformas
Las bibliotecas se dividen en dos categorías:
bibliotecas de cliente
bibliotecas de servidor
Por lo general publicamos nuestros mensajes y eventos de servidor y escucha para ellos en el cliente, pero canales también apoya eventos de cliente, lo que es posible publicar mensajes desde el cliente (aunque eso no es algo que siempre queremos hacer).
Se puede ver que las bibliotecas oficiales que son escritas y mantenidas por pulsador apoyan todas las plataformas principales. En la parte delantera, Pusher dispone de librerías para:

Android
iOS (Swift y Objective C)
Java
JavaScript
Y en el servidor, usted encontrará apoyo para:

Go
Java
.NET
Node.js
PHP
Laravel
Python
Ruby
Si utilizas otro lenguaje o plataforma, se dispone de muchas bibliotecas de la comunidad, por ejemplo, en ActionScript, Android (aunque también hay apoyo oficial para Android), C++, Cold Fusion, Dart, PERL y reaccionar nativo. Estas bibliotecas de la comunidad no pueden aplicar todo, pero son un buen lugar para empezar.

Características
Canales es mucho más que publicar y suscribirse a mensajes.
Puede crear y utilizar canales privados para que sólo los usuarios autorizados pueden suscribirse a ellos. Esto significa que usted necesita autenticar a los usuarios, y puede integrar perfectamente con su propio esquema de autenticación autenticación de canales.
También se pueden crear canales privados especializados, llamados canales de presencia, que le permiten ver los usuarios que suscripción a un canal en particular, y lo hace extremadamente fácil construir aplicaciones colaborativas, juegos y cualquier otro tipo de aplicación donde se necesita para saber quién está en línea.
Como una plataforma de Canales le da todo lo necesario para monitorear indicadores y alertas. Usted puede ver una variedad de métricas sobre los mensajes que se envían a través de sus canales, como el número de mensajes, su tipo y su tamaño. También tendrás información sobre las conexiones y cómo conectar clientes a su aplicación y la plataforma de Canales. También puede integrar todos estos datos con otras herramientas de terceros como Datadog y Slack.

Se dispone de herramientas de depuración para cada vez que se ejecuta en un problema, y ganchos de web son compatibles para que su servidor puede ser actualizado y ser notificado cuando se producen eventos en Canales. También puede consultar el estado de sus usuarios conectados con una simple consulta API.

Conclusión
Hay un montón de cosas maravillosas que descubrir sobre Canales, y nos buscará en ellos en el transcurso de los próximos pocos videos. Así que estad atentos! Y no olvide visitar el sitio de Pusher para aprender más. Tienen un montón de información sobre casos de uso específicos, así como tutoriales e información sobre cómo empezar.

Want a weekly email summary?
Subscribe below and we'll send you a weekly email summary of all new Code tutorials. Never miss out on learning about the next big thing.
Sign up
I started my development career on the client-side writing JavaScript and DHTML components in my spare time. In 2005, Nicholas C. Zakas asked me to join him in writing the first edition of Professional Ajax for Wiley Publishing. Since Professional Ajax, 1st Edition, I've been blessed to take part in other book projects: Professional Ajax 2nd Edition, and Beginning JavaScript 3rd and 4th editions.
Looking for something to help kick start your next project?
Envato Market
has a range of items for sale to help get you started.