Jane Baker
Los archivos PDF son un medio eficaz para compartir y mostrar documentos que ha pasado la prueba del tiempo, pero estos continúan teniendo ciertas limitaciones si no disponemos en nuestro sitio web de un visualizador de PDFs adecuado. En primer lugar, corres el riesgo de perder visitas: aunque los navegadores son capaces de cargar documentos en formato PDF, los archivos se muestran en una nueva pestaña o ventana, esto significa que la atención de tus usuarios habrá abandonado tu web. En segundo lugar, si confías en visualizadores de terceros, no tendrás control sobre la presentación de tus documentos, ni podrás decidir las formas en las que los usuarios podrán interactuar con ellos.
Afortunadamente, existe una solución. En este artículo, compararé dos visualizadores de PDFs para WordPress que solventan los problemas señalados más arriba y, al mismo tiempo, introducen funcionalidades que mejoran tus PDFs y tus herramientas digitales. Sigue leyendo para aprender cómo funcionan estos plugins WordPress para documentos PDF, y descubre cuál cubre mejor tus necesidades.
El plugin PDF Viewer for WordPress es una opción clara y refinada tanto para la visualización a pantalla completa como para ver documentos incrustados. Es uno de los plugins para PDFs más vendidos, y te permitirá incrustar directamente archivos PDF en cualquier página o entrada de tu sitio WordPress, favoreciendo la interacción de los usuarios con tu contenido.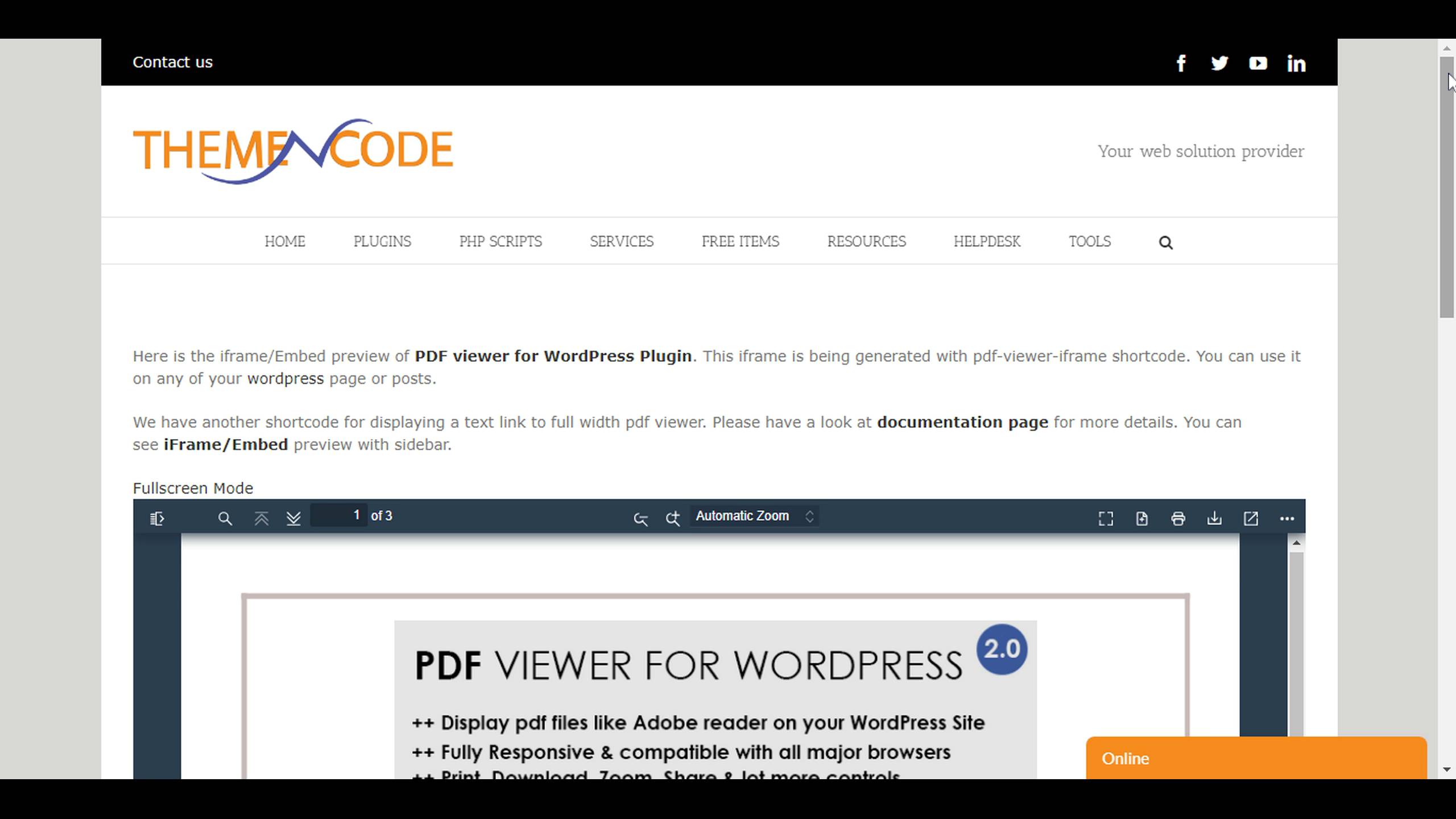 Funciona perfectamente con cualquier PDF, y es especialmente idóneo para mostrar cartas de restaurantes y documentos de especificaciones técnicas de cualquier tamaño. Además de todas las opciones habituales como la navegación a través de las páginas, la descarga, la impresión y la visualización en modo presentación, este plugin WordPress para PDFs viene con útiles características extra.
Por ejemplo, podrás controlar cómo interactuarán los usuarios con tu PDF, ya que es posible activar o desactivar cualquiera de sus funcionalidades. Si necesitas habilitar o deshabilitar la impresión, la descarga, o la posibilidad de compartir los PDFs, serás capaz de hacerlo con este plugin. Otra excelente funcionalidad: este visualizador de PDFs te permite cargar tu propio logotipo, de manera que al aparecer en el PDF, este se integra con tu imagen de marca y añade un enlace de vuelta a tu sitio web, en lugar de hacerlo hacia sitios web externos. Gracias a este sistema, el visualizador de PDFs potenciará el "engagement" de los usuarios con tu contenido en lugar de hacer que abandonen tu página.
Este visualizador de PDFs para WordPress se integra con Google Analytics, es totalmente responsivo, proporciona una experiencia de usuario ágil y fluída, y una alta calidad de imagen, factores importantes ambos para mantener felices a los usuarios de tu sitio. Viene con tres atractivos temas de presentación, completamente personalizables. Es decir, podrás seleccionar una de las plantillas de diseño predefinidas para presentar tus PDFs, o ajustar los colores y los estilos de modo que se adapten mejor a diseño del tema de tu sitio web.
El usuario Talle3 señala:
"Nos encanta este plugin para mostrar nuestros documentos PDF. Especialmente la posibilidad de proteger el documento, de forma que pueda visualizarse pero al mismo tiempo evitar su descargar. ¡Un plugin estupendo!"
¿Buscas una forma dinámica de mostrar tus PDFs? el plugin dFlip WordPress PDF aportará vida a tus documentos gracias a las animaciones para el deslizamiento de las página y la posibilidad de reproducir audio.
Perfecto para presentaciones creativas como libros, catálogos de fotografía y portafolios, este visualizador de PDFs es potente y fácil de usar. Basado en la tecnología WebGL, dFlip te permite crear desplazamientos de página realistas y álbumes de fotografía usando una sencilla interfaz "drag-and-drop". No necesitas saber escribir código - simplemente añade el enlace donde está alojado tu archivo para crear un "flipbook" de forma instantánea.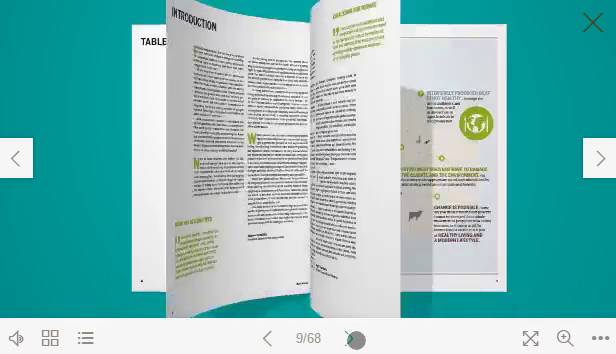 Es totalmente responsivo y usa un sistema de renderizado inteligente para consumir los mínimos recursos de CPU, este visualizador de PDFs funciona perfectamente tanto en dispositivos móviles como en equipos de sobremesa. Emplea una librería 3D y potentes transformaciones 2D basadas en CSS3, y cuenta con "smart fallback" - en otras palabras, tu PDF se mostrará en tres dimensiones a menos que el dispositivo del usuario no sea capaz de presentarlo de esta manera, en cuyo caso lo detectará automáticamente y lo mostrará en 2D. Esta característica le da el poder de la animación dinámica, al tiempo que garantiza que los visitantes del sitio podrán disfrutar de su libro animado, no importa qué dispositivo están usando.
Cuenta con todas las características que necesitas en un único paquete, como hotspots, notas en el PDF y márgenes personalizados, además podrás usar este visualizador de PDFs para WordPress tanto con archivos PDF como con imágenes. Potente técnicamente, con una interfaz de usuario sencilla y un estilo visual atractivo, este visor WordPress para PDFs tiene todo que lo necesario para presentar tus documentos PDF.
El usuario conceivecreative comenta lo siguiente:
"¡Impresionante plugin para la presentación de libros PDF! Es, con gran diferencia, el mejor plugin que he encontrado! Muy diáfano, podrás personalizar todo lo que quieras! ¡Lo recomiendo a todo el mundo!"
Conclusión
Ahí lo tienes: dos grandes opciones para visualizar PDFs en WordPress, con características y estilos únicos, que te permitirá incrustar tus documentos PDF en tu sitio web en tan solo unos segundos. Si buscas un estilo elegante y clásico, PDF Viewer for WordPress es la mejor opción. Si prefieres un visor con un toque que llame la atención sobre los documentos, échale un vistazo a dFlip. Con cualquiera de estos dos visores de PDF para WordPress, tanto tú como los visitantes de tu web, estaréis encantados del aspecto y el rendimiento de los documentos.
Want a weekly email summary?
Subscribe below and we'll send you a weekly email summary of all new Code tutorials. Never miss out on learning about the next big thing.
Sign up
Happy camper and content specialist.
Looking for something to help kick start your next project?
Envato Market
has a range of items for sale to help get you started.