Esther Vaati
¿Estás buscando una manera creativa e interactiva para mostrar textos, fotos y documentos en tu sitio web? Añadir un flipbook puede elevar tu proyecto y mejorar la experiencia de tus visitantes.
Para este artículo, he elegido tres excelentes herramientas que te permitirán fácilmente crear flipbooks animados y realistas . Ya sea que estés buscando específicamente un plugin de jQuery para libros o simplemente una herramienta que cumpla con el trabajo, estoy seguro de que una de estas opciones se adaptará a tus necesidades, así que sigue leyendo para descubrir más sobre lo que pueden hacer estos plugins de jQuery.
WowBook, el exitoso plugin de jQuery, convierte tus archivos de imágenes, HTML o PDF en flipbooks responsivos. Este plugin de jQuery es fácil de usar, tanto para el diseño como para los usuarios finales. Veamos algunas de las características principales.
Crea flipbooks sin esfuerzo
El plugin de Query para flipbooks, WowBook, viene con tres plantillas listas para usar, para que puedas crear tu flipbook en segundos. Utiliza las opciones de diseño para personalizar aún más la barra de herramientas responsiva, la tabla de contenidos, las miniaturas, el contenedor responsivo y los números de las páginas con HTML y CSS. Decide la forma en que los espectadores interactuarán con tu flipbook con más opciones como página única, presentación de diapositivas, lightbox y modo de libro sin tapa/no cerrado.
La descarga de WowBook viene con soporte completo para PDF, por lo que este plugin puede manejar enlaces internos y externos, índices y texto seleccionable. Con soporte táctil integrado, navegación configurable mediante el teclado y con la rueda del mouse, tu flipbook funcionará en todas las plataformas móviles y de escritorio.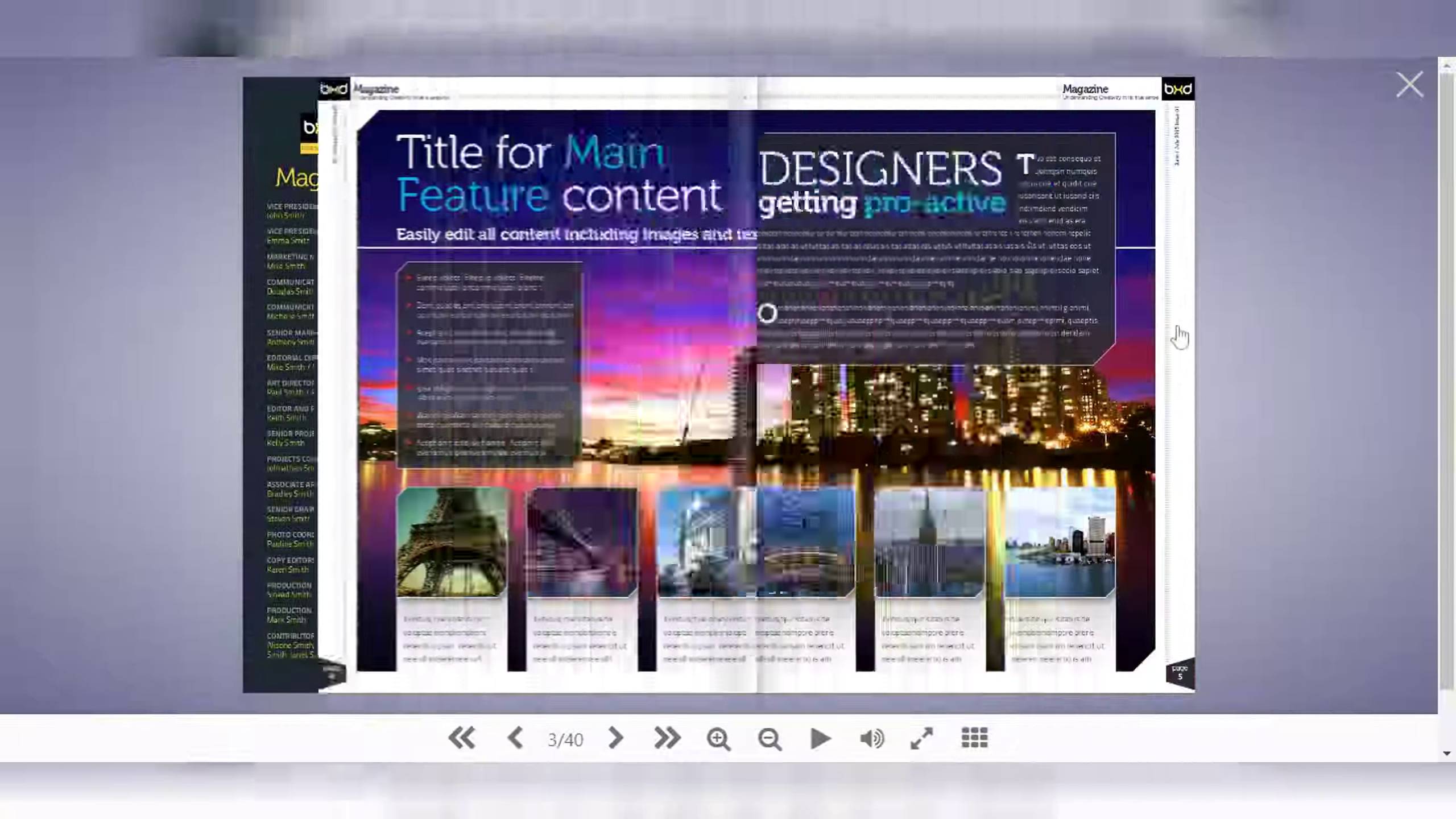 Flipbooks fáciles de usar
Este plugin de jQuery para crear libros animados trae todas las características que los usuarios finales esperarían en una herramienta responsiva, por lo que comprenderán intuitivamente cómo interactuar con tu flipbook. Las esquinas de las páginas se curvan al pasar el puntero del mouse para invitar a los usuarios a interactuar con tu documento. Con soporte táctil completo, funcionalidad de pellizcar y hacer doble clic para ampliar, además del redimensionamiento integrado para los diferentes tamaños de pantalla, hace que sea fácil para los usuarios disfrutar de tu flipbook.
Por lo que respecta a los detalles de diseño, este plugin te permite escoger entre dos efectos realistas al dar vuelta a la página, por lo que los usuarios finales experimentarán efectos de libro de cubierta dura o rotación de hojas. En navegadores con soporte de audio, el plugin también incluye un efecto de audio al pasar la página. Por último, este plugin es completamente compatible con los principales navegadores y no requiere Flash, por lo que puedes estar seguro de que tu flipbook será visualizado correctamente por tus espectadores.
El usuario janericster dice:
«En general, el diseño, la codificación y la documentación son de primer nivel. Fácil de seguir e instalar. ¡Bien hecho!»
Versátil y fácil de usar
Un ganador total en cuestión de estilo y facilidad de uso, el plugin de jQuery para flipbook, Diamond, ofrece la mejor flexibilidad de visualización. Las atractivas y realistas animaciones al cambiar la página están basadas en la biblioteca Turn.js. Con este plugin, puedes utilizar el ancho del flipbook que mejor se adapte a tu sitio, ya sea que tu diseño sea responsivo o no.
Asimismo, este plugin te permite subir documentos de cualquier extensión de páginas, por lo que no estás limitado a la hora de crear tu flipbook. Las opciones de visualización como las barras de herramientas, las herramientas de zoom y los enlaces profundos son personalizables, así que tienes un control total sobre el resultado final.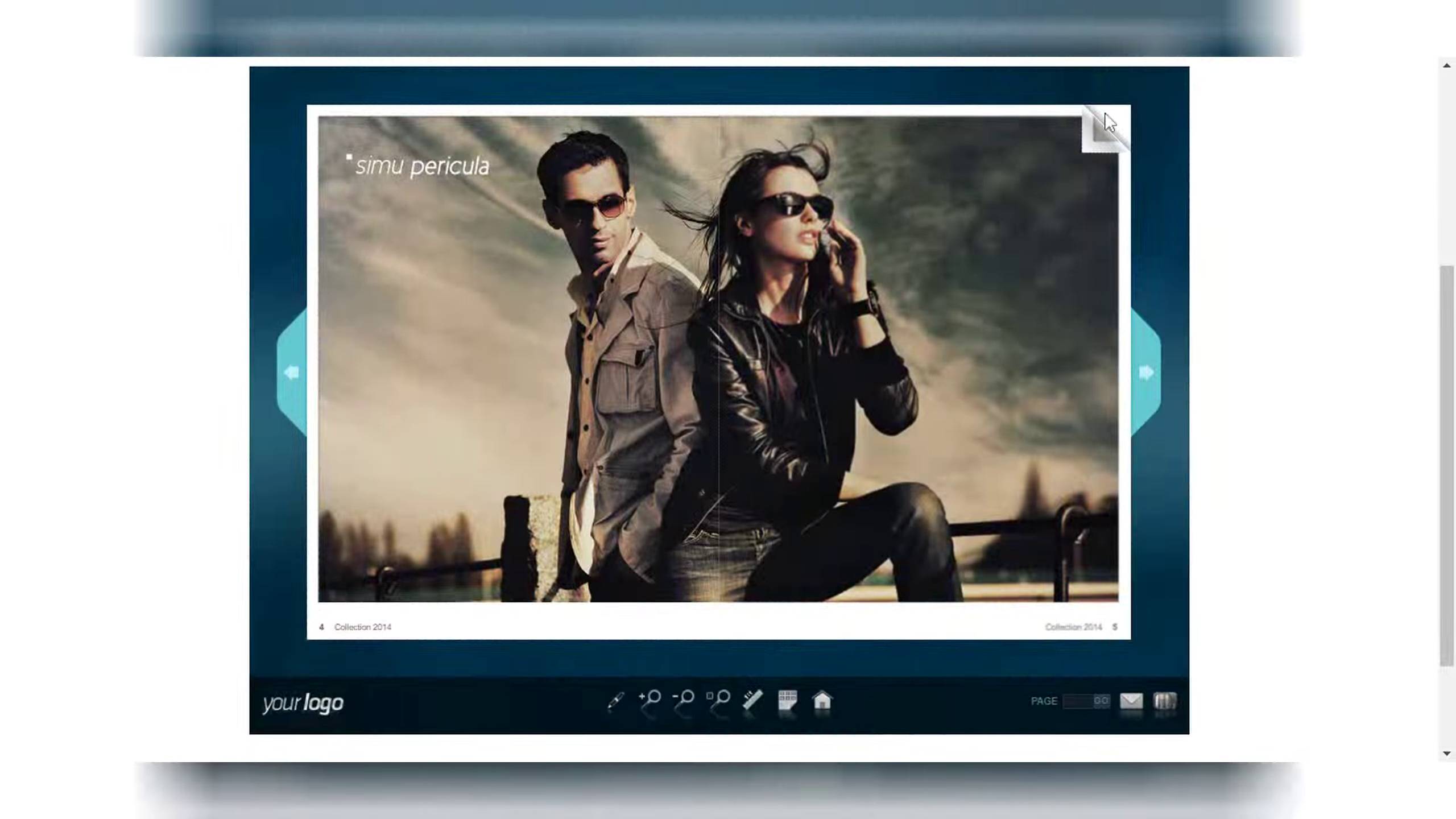 Gran desempeño para los usuarios finales
Con carga diferida (lazy loading) y sin necesidad de Flash, este plugin ofrece a los visitantes de tu sitio web la funcionalidad de visualización más rápida y confiable. La funcionalidad de derecha a izquierda está disponible, en caso de que la requieras para llegar a tu público objetivo, además de su compatibilidad con YouTube. Las actualizaciones gratuitas significan que tu flipbook seguirá funcionando perfectamente para ti, ahorrándote tiempo y esfuerzo.
El usuario carlrobinson dice:
«Sé muy poco sobre código, pero solo seguí las instrucciones y el libro funcionó perfectamente. Muy fácil de personalizar».
Flipbook instantáneo, sin necesidad de codificación
Con solo un enlace a un archivo PDF, con el plugin de jQuery para libros, dFlip, puedes crear instantáneamente flipbooks en 3D. Este plugin está basado en una biblioteca de maquetas 3D realistas y las potentes transformaciones 2D de CSS3. Este plugin es compatible tanto con los PDFs modernos como con los álbumes de fotos tradicionales, y los flipbooks en PDF funcionan sin conversión, lo que lo hace muy fácil de usar.
Los espectadores con navegadores actualizados experimentarán los suaves y hermosos efectos en 3D al cambiar las páginas, respaldados por un código optimizado y una renderización inteligente. Para aquellos con navegadores antiguos, la solución alternativa inteligente significa que quienes lo requieran podrán acceder a una versión 2D de tu flipbook.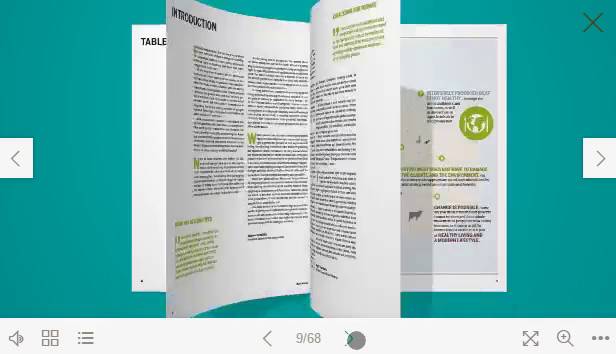 Todas las funciones que necesitas
Coloca el enlace de tu PDF para conseguir un flipbook instantáneo, o aprovecha todas las funciones de personalización que necesites para sacarle el máximo partido. Este plugin viene con diseños versátiles de lightbox y características avanzadas para los PDFs como miniaturas de las páginas, anotaciones en el PDF, soporte de imágenes y marcadores.
Una de las mejores opciones de jQuery para crear libros animados que hay en el mercado, dFlip es totalmente responsivo y compatible con pantallas táctiles. Tiene otras características como zoom multinivel, puntos de acceso a la imágenes del flipbook y es compatible con RTL, además de todos los controles básicos para los PDFs, todo esto hace que dFlip sea una opción versátil y potente para crear un hermoso flipbook en 3D.
El usuario adam_fox dice:
«Un plugin de primer nivel absoluto y excelente atención al cliente. Este es el mejor plugin de PDF para flipbooks que he encontrado. Te recomiendo ampliamente dFlip JQuery Plugin para tu sitio web».
Conclusión
Como puedes ver, cada uno de estos plugins de jQuery para flipbooks viene con características únicas, y los tres ofrecen una configuración fácil para ti y un alto desempeño para tus espectadores.
Si estás buscando muchas funciones y una experiencia verdaderamente intuitiva para tus espectadores, WowBook es una elección sólida. Si necesitas una extensión ilimitada en los documentos y compatibilidad con YouTube, Diamond es indispensable. Y para crear flipbooks en 3D realistas a partir de PDFs, con una solución alternativa inteligente, dFlip es insuperable. Revisa estos y otros plugins en CodeCanyon para que veas por ti mismo la diferencia que pueden lograr en tu sitio web
Want a weekly email summary?
Subscribe below and we'll send you a weekly email summary of all new Code tutorials. Never miss out on learning about the next big thing.
Sign up
Software developer
Software developer and content creator. Student of Life | #Pythonist | Loves to code and write Tutorials
Looking for something to help kick start your next project?
Envato Market
has a range of items for sale to help get you started.