Jason Lewis
الشريط هو خدمة تجهيز المدفوعات التي تأتي مع مجموعة من واجهات برمجة التطبيقات سهلة الاستخدام وصلاحيات الإلكترونية للشركات من جميع الأحجام. الشريط يجعل من السهل لتنفيذ معاملات بطاقات الائتمان آمنة مع توفير الراحة للخروج بصفحة المستخدمين. ليس ذلك فحسب ولكن الشريط يحتوي على دعم مضمن للاشتراكات والفواتير المتكررة.
لارافيل هي التكنولوجيا نهاية مثالية لتنفيذ مخزن مدعوم من الشريط. جنبا إلى جنب مع لارافيل لكائن علائقي رسم الخرائط والتوجيه والمصادقة وظائف مضمنة، وهناك أيضا دعم أصلي للشريط مع أمين الصندوق لارافيل.
في هذا الفيديو القصير التعليمي من بلدي بالطبع على تجهيز المدفوعات مع شريطية وأمين الصندوق لارافيل، سوف ننظر في كيف ومتى ينبغي أن نستخدم اتصال أمن. سوف تظهر لك أيضا خيارات قليلة لتوليد وتثبيت شهادة.
مشاهدة البرنامج التعليمي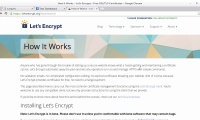 مشاهدة دورة كاملة
في دورة كاملة، عملية المدفوعات مع شريطية وأمين الصندوق لارافيل، سوف تظهر لك كيفية معالجة المدفوعات على الشريط باستخدام لارافيل أمين الصندوق.
سنقوم تغطية عدد من المواضيع الرئيسية، بما في ذلك كيفية إعداد قاعدة البيانات الخاصة بك للمدفوعات ومؤشرات إلى الشواغل الأمنية يجب أن تكون على علم عند التعامل مع بيانات حامل البطاقة.
سوف تتعلم أيضا كيفية معالجة المدفوعات واحد، مرة واحدة لعربة تسوق عبر إنترنت، وحتى كيفية التعامل مع اشتراكات شريطية.

Want a weekly email summary?
Subscribe below and we'll send you a weekly email summary of all new Code tutorials. Never miss out on learning about the next big thing.
Sign up
By day I'm a firefighter and by night a web developer. I occasionally write things on my
personal blog
but am usually helping folks with
Laravel
. You can find me on
Twitter
,
G+
,
GitHub
or lurking in
#laravel
on freenode!
Looking for something to help kick start your next project?
Envato Market
has a range of items for sale to help get you started.