So you've learned the basics – HTML and CSS – and are now ready to dig into building your own dynamic websites. Congratulations for getting this far; now it's time for the fun part! In my new Tuts+ Premium course, I'll teach you, from scratch, how to use PHP; we'll also, naturally, have to learn a bit of MySQL in the process!
---
A Live Course
Please note that this is a live course. This means that, each day during the work week, return to the site to view a new episode! This way, if you've been meaning to dig into PHP, you can learn one day at a time. While the first week will be free to all, the remainder of the course will be exclusive to our Premium members.
If you have any questions, you can always jump over to the forums, and I'll be glad to help!
---
Tuts+ Premium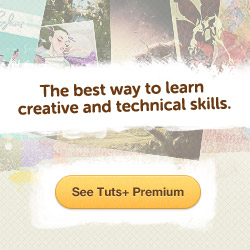 The recently re-launched Tuts+ Premium is a service that provides top-tier training in a variety of creative fields. Whether you prefer books, visual training, or in depth tutorials, we have you covered.
While we unfortunately can't afford to provide the service for free, it's only $19 a month - less than you'd spend on dinner.
On the Near Horizon
Cleaner Code With CoffeeScript
Understanding Backbone in .NET
Programming Fundamentals
What's New in PHP
JavaScript Fundamentals 201
Test-Driven Development in Ruby
Laravel Essentials
I hope you'll consider checking it out! In addition to learning a huge variety of new skills, it's also a fantastic way to say thank you to Nettuts+, if we've been lucky enough to help you at some point in your career.