JavaScript Testing From Scratch: New on Premium
This likely isn't the first tutorial on testing that you've ever seen. But perhaps you've had your doubts about testing, and never took the time to read them. After all, it can seem like extra work for no reason.
This tutorial (with screencasts) intends to change your views. We're going to start at the very beginning: what is testing and why should you do it? Then, we'll talk briefly about writing testable code, before actually, you know, doing some testing! Let's get to it.
Become a Premium member to read this tutorial/screencast, as well as hundreds of other advanced tutorials and screencasts from the Tuts+ network.
---
Tuts+ Premium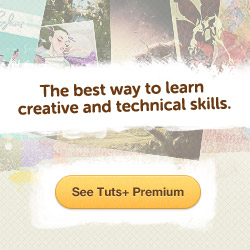 The recently re-launched Tuts+ Premium is a service that provides top-tier training in a variety of creative fields. Whether you prefer books, visual training, or in depth tutorials, we have you covered. While we unfortunately can't afford to provide the service for free, it's only $19 a month - less than you'd spend on dinner.
I hope you'll consider checking it out! In addition to learning a huge variety of new skills, it's also a fantastic way to say thank you to Nettuts+.
About the Author
Hi! I'm Andrew Burgess, a Staff Writer here on Nettuts+. I've been hanging around the Nettuts+ since early 2009; I discovered the site when I was looking for an introduction to jQuery. Since discovering the site, my web development skills have skyrocketed; I think that's the default experience! Now, I've been writing for Nettuts+ regularly since late 2009. I've been working with the computers since I was pretty young, and with the web since 2006. I've dabbled with over a dozen programming languages, but I'm most comfortable in JavaScript and Ruby. Currently, I'm a university student, studying computer science.
more…