I'm pleased to announce that Jeremy McPeak's latest course, JavaScript Fundamentals, is now available on Tuts+ Premium! As the author of countless books, including JavaScript: 24 Hour Trainer and Professional AJAX, Jeremy is the perfect person to show you the ropes!
With over five hours of content, you'll learn everything from the absolute basics, all the way up to event delegation. And, with Jeremy's teaching style, nobody gets left behind.
Take the final course quiz to ensure that you've mastered the skills in each lesson.
---
Tuts+ Premium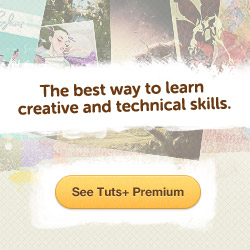 The recently re-launched Tuts+ Premium is a service that provides top-tier training in a variety of creative fields. Whether you prefer books, visual training, or in depth tutorials, we have you covered.
While we unfortunately can't afford to provide the service for free, it's only $19 a month - less than you'd spend on dinner.
But the best part is that, every month, we're adding as many as five new in depth courses on the skills that you want to learn. What's on the near horizon? JavaScript Testing with Jasmine, Professional Screencasting, Cleaner Code With CoffeeScript, Test-Driven Development in Rails, and countless more.
I hope you'll consider checking it out! In addition to learning a huge variety of new skills, it's also a fantastic way to say thank you to Nettuts+.