If you prefer the written word, we have a fantastic session on working with Dojo Toolkit, created by Andrew Burgess. However, for the visual learners among us, I also asked him to prepare a series of screencasts for the series as well. I'm pleased to announce that, today, we've released these videos exclusively to our Tuts+ Premium members.
Become a Premium member to read this tutorial/screencast, as well as hundreds of other advanced tutorials and screencasts from the Tuts+ network.
Maybe you saw that tweet: "jQuery is a gateway drug. It leads to full-on JavaScript usage." Part of that addiction, I contend, is learning other JavaScript frameworks. And that's what this four-part screencast series on the incredible Dojo Toolkit is all about: taking you to the next level of your JavaScript addiction.
---
Tuts+ Premium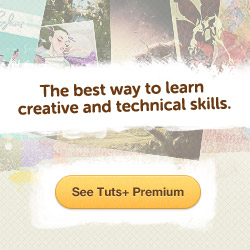 The recently re-launched Tuts+ Premium is a service that provides top-tier training in a variety of creative fields. Whether you prefer books, visual training, or in depth tutorials, we have you covered. While we unfortunately can't afford to provide the service for free, it's only $19 a month - less than you'd spend on dinner.
I hope you'll consider checking it out! In addition to learning a huge variety of new skills, it's also a fantastic way to say thank you to Nettuts+.