We're pleased to announce that the definitive book on WordPress development, Digging into WordPress, is now included as part of your Tuts+ Premium membership! More information after the jump.
---
Overview
Digging into WordPress is 400+ jam-packed pages of everything you need to get the most out of WordPress.
Written by WordPress veterans Chris Coyier and Jeff Starr, Digging into WordPress is 400+ jam-packed pages of everything you need to get the most out of WordPress. WordPress is great right out of the box, but unless you want an ordinary vanilla blog, it is essential to understand the full potential of WordPress and have the right tools to get the job done.
In clear, easy-to-read language, Digging into WordPress shows you how to tap WordPress' potential and take your site to the next level. From setup and configuration and customization to syndication, security and optimization, Digging into WordPress gives you everything you need to maximize the success of your site.
Written with the perfect balance of theory, explanation and code, each chapter focuses on teaching you how to improve your site using many different techniques, tips, and tricks. Each technique is fully self-contained, providing complete instructions and clear explanations to make implementation a breeze.
Along the way, as you learn about how to maximize, optimize and streamline your site, you'll also get scores of bonus information in the form of "pop-out" boxes and side notes. These popouts and asides provide you with further context, insider information, and many more awesome techniques to improve your WordPress-powered site.
---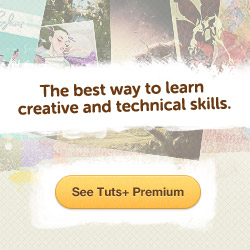 Digging into WordPress is worth the $19 Tuts+ Premium membership alone, but we also have a hundred hours of courses, countless tutorials, dozens of ebooks, and much more. It's a fantastic solution for those hoping to extend their training in the creative fields.
Even better, we release more content every week! Courses that are scheduled to be released in the next month include Laravel Essentials, Ruby Fundamentals, jQuery Plugin Development Best Practices, So You Bought a Mac, and many more.